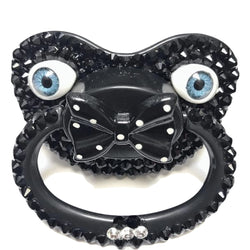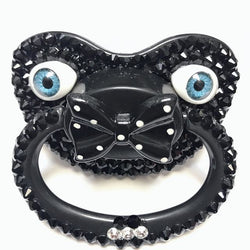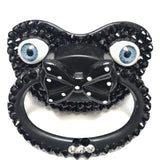 Creepy Cute Deco Pacifier
This glittering and shimmering adult sized pacifier is made of 100% safe BPA-free rubber silicone, completely food grade, so you can suck, chew, soothe, and play safely without any nasty chemicals. 
With a black paci decorated with black and clear diamond rhinestones, with a black bow cabochon and two creepy cute googly eyes,  what's not to love about this gothic custom paci?
There was great attention to detail with this gorgeous custom adult pacifier, with lots of love and care.
This decorated and blinged out princess adult binkie has a full adult size nipple and mouth guard so it's aesthetically pleasing on all adult face sizes, unlike regular baby and infant sized binkies which can look much too small on an adult face. It's perfect for the DDLG community, ABDL community, and for littles who just like to explore age regression safely, and look cute to boot!
Adult pacis make great fashion accessories, as well as being very soothing, especially for those on the autism spectrum. In fact, they're often referred to as "soothers", because they can be very relaxing not only for babies, but adults too! 
**This product may take longer to process & ship than others since it is made-to-order! 
---
Littlespace Ageplay Tip: Pair this cute adult pacifier with a Matching Adult Onesie, 

 

also available in our kawaii ddlg shop!