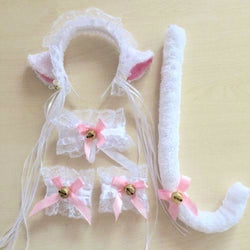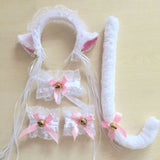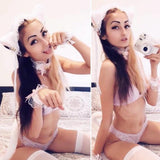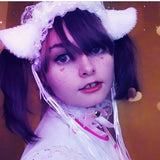 If you only own one petplay costume set, let it be this incredible white and pink bow kitten outfit! Full set with gorgeous real silk bows, lace trim, soft fur, and adjustable tail.
You get everything you could possibly want to complete your kitty cat look: a jingly bell collar, kitten cuffs, kitty ear headband, and furry tail
The headband is of superb quality, and could be easily used as a lolita cosplay or fashion accessory on its own. The material is simply luxurious and you'll be petting it with pure delight!
One size fits virtually all kitten cuties!
---
Little Space Age-Play Petplay Tip: Pair this adorable petplay kitten set with a Matching Kitten Lingerie Set,  also available in our shop! 
---
---