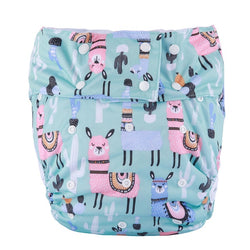 These high quality, 4 layer waterproof and bamboo lined, adult baby diapers are a practical and financially wise investment for adult babies who like to be padded and pampered daily!
Available in multiple youthful prints and styles, we strive to provide you with a solution to expensive disposable diapers!
Offering 100% bamboo thick liners that wick away and absorb moisture better than regular cotton. You can pad them with as many liners as you'd like for greater protection! (You can purchase packages of 3 liners in our shop!)
The diaper lining is made of 3 layers of microfibre, and has a quality waterproof shell for extra protection! Pair this with a genuine bamboo thick liner, and you'll be fully protected! 
Collect them all and start your adorable and fully reusable nappy collection today!

The waist is 100% elastic for comfort, and the biggest waist size these diapers will accommodate is 130cm. (Around XXL)

One size fits most adult babies size XS to XXL best, male or female! These nappies have highly adjustable snaps so you can make it larger or bigger depending on your body type.
---
Little Space Ageplay Tip: Pair a cute adult diaper with a genuine Adult Onesie, also available in our ABDL ageplay shop!  
---
---