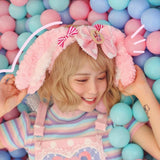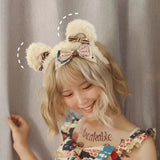 Strawbunny Ear Plush Headband
These luxuriously detailed pastel and perfectly fairy-kei lolita bunny ears are a must have for any kawaii cutie wanting to embrace their inner baby bun! 
Made of quality vegan materials, lovingly hand-made piece by piece, with beautiful ribbons, bows, beads, and more!
Lined in soft plush fabric! 
Choose from pink strawberry bunny ears, or brown baby bear ears! 
Comfortable and flexible headband fits most size heads!    
---
Little Space Petplay Tip: Pair these cute pink bunny ears with a Pair Of Lace Stockings, to complete your age play look, also available in our shop!  
---
---