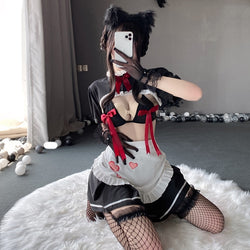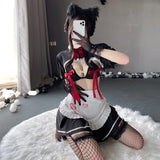 Ribbon Kitten Maid Cosplay
 Introducing the purrfectly kinky and naughty Ribbon Kitten Maid Cosplayy! This two-piece costume will have you feeling like the cutest and most seductive maid in the house. Here are some features of this playful costume:
Bikini top with red ribbons: This adds a touch of playful seduction to the already cute bikini top.

Hearts on the apron: These heart-shaped details on the apron will make your heart skip a beat and your partner's heart race with excitement.

Matching accessories: You can choose from a range of matching accessories to complete your look and make your roleplay even more exciting.

Cosplay and roleplay ready: Whether you're cosplaying your favorite anime maid or indulging in some kinky roleplay, the Ribbon Kitten Maid Cosplayy is the perfect choice.
So why wait? Get ready to unleash your inner kitten and turn up the heat with this irresistible costume!
Skirt Length:38cm

Bust:70-120cm

Waist:66-80cm

Weight:40-60kg