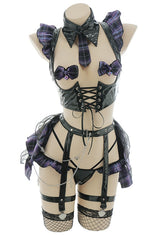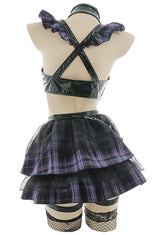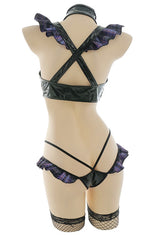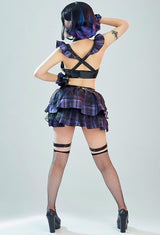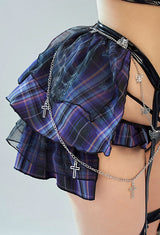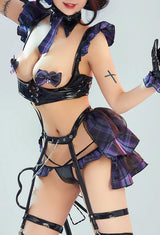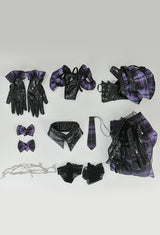 Purple Plaid Latex Vixen Set
Introducing the Purple Plaid Latex Vixen Set, your ultimate ticket to edgy alternative fashion with a playful twist! Unleash your inner vixen and rock that gothic vibe like a pro. Check out what this stunning set has to offer:
🖤 Edgy Purple & Black Plaid: This latex cosplay set features a striking purple and black plaid pattern that screams alternative fashion.

🎀 Cute Gem-Embellished Nipple Covers: Stand out from the crowd with the adorable purple plaid gem embellished bow nipple covers, adding a touch of sass and sparkle to your look.

🌟 Detachable Plaid Bustle Skirt: Transform your outfit on the fly with the gorgeous detachable plaid bustle skirt, creating endless styling possibilities.

🔗 Amazing Chain Details: Take your latex game to the next level with the stunning chain details, adding a touch of fierce attitude to your ensemble.

💜 Avril Lavigne Vibes: Channel your inner punk princess with the cute tie collar, giving you major Avril Lavigne vibes and adding a playful touch to your overall aesthetic.
The Purple Plaid Latex Vixen Set is the perfect choice for those seeking a daring and unique style. Get ready to turn heads and rock the alternative scene like a true fashion maven!