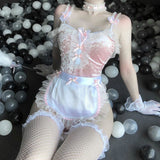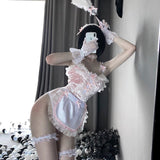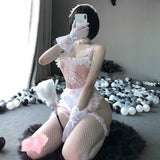 Pink Velour Maid Cosplay Set
This velvety full velour pink maid adult onesie cosplay set is a must have for any little one with an ultra girly side, looking to embrace her inner submissive maid!
Featuring adorable lace ruffles, silky ribbons, and bows, and a beautiful apron style skirt over the front! 
Includes the feather duster, onesie, neck collar, wristlets AND a  matching headband - what more could you ask for baby? 
With influences from a traditional ballerina style leotard or bodysuit, this cute one piece romper is simply the sweetest pink creation ever! 
3 snap crotch closures in traditional romper style.
A bold fashion statement, or sweet youthful romper, or naughty maid costume, you decide!
One size fits most little cuties size XS to Medium best! Measure first to be sure. 
Bust: 76cm, Waist: 64cm, Hips: 80cm (with some stretch) Fits roughly XS-Medium best.
---
Littlespace Ageplay Tip: Pair this sweet pink maid onesie with a Matching Pair Of Lace Stockings  also available in our kawaii ddlg shop!