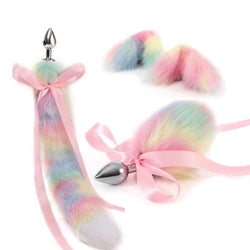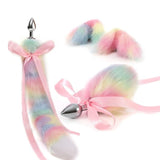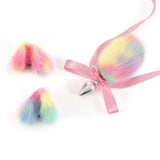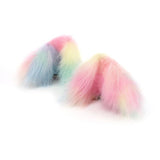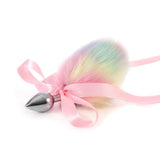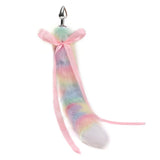 Pastel Rainbow Petplay Set (3 Pieces)
If you invest in any single pet play set, let it be this luxurious 3 piece pastel rainbow fox & bunny tail set made of only the highest quality materials, with vegan faux fur and beautiful matching cat / fox ears!
Fantastic value for two tail plugs AND matching neko ears! 
Genuine silk ribbons in all the right places, and the most comfortable, safe, and surgical-grade non-toxic material you could ask for in a tail plug! 
Comfortable matching clip in cat/fox ears with the fluffiest fur ever! 
A stunning milky pastel color palette on all three pieces: bunny rabbit pompom tail, long fox / cat tail, and the matching ear clips! 

Great for sexy pet play photoshoots or fun in the bedroom! 
Soft, fluffy, and perfectly plush!
Realistic fox / cat / puppy tail size! 
---
Pro Petplay Kink Tip: Pair this adorable tail plug and cat ear headband set with a Customizable Collar

,  

also available in our shop!  
---
---