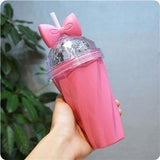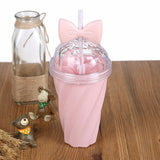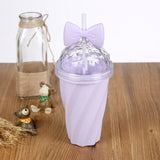 Pastel Princess Water Bottle
This adorable bow water bottle is perfect for little boys and girls wanting to show off their smol and cute age regression side while being beyond adorable and incognito!
A great alternative to traditional baby bottles with nipples!  
Available in 4 beautiful colors of your choosing: Pink, Purple, Magenta, and Cyan.
Has a cute little ribbon on the end of the straw! A cute touch.
Secure ribbed edges means you'll have a great grip on this cute bottle.
Made of quality 100% BPA free and SAFE materials to drink from! Environmentally conscious!
Holds approximately 400ml of any beverage of your choice.
Dishwasher safe.  
---
Pro Kawaii Fashion Tip: Pair this cute water bottle with a matching Frilly Bunny Onesie, to complete your kawaii look, also available in our shop!  
---
---