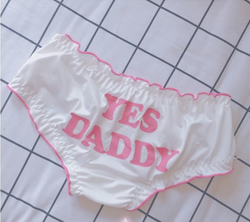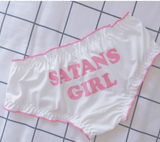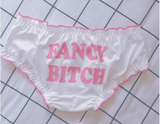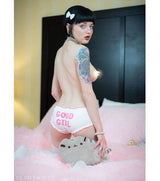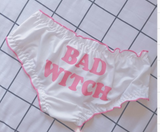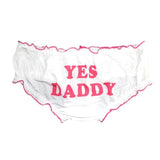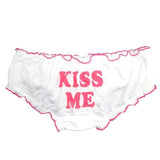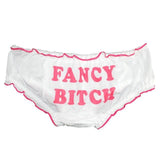 These cute ruffled panties have the perfect cut to flatter almost any booty! With cute bunching and quality material and stitching, these undies will have you feeling so sweet!
Made of comfortable breathable fabric, you'll love wearing these just as much as your partner will love seeing you in them!
One size fits most lovely ladies size XS-Medium, with a bit of stretch to the fabric, they fit  comfortably!
Available in 7 styles featuring the phrases: "Good Girl", "Fancy Bitch", "Kiss Me", "Satans Girl", "Fuck Me" "Yes Daddy" and "Baby"
Whether you're wearing them for your "daddy dom", or if you're doing you and just wearing them to feel like the sweet and sassy sexual goddess that you are, these undies are sure to please! 
Now carrying packages of all 7 luxury panties that allow you to save a whopping $43 on the whole set! 
Measurements: 
Waist: From 30 Inches to 39 Inches
Hips:From 31 Inches to 41 5/8 Inches
Thigh:from 15 5/8 Inches to 24 Inches.
---
Little Space Ageplay Tip: Pair these sweet panties with a Matching Black Pacifier  also available in our shop!  
---
---