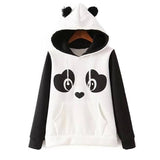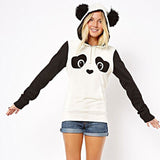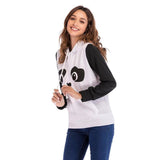 This precious black and white panda bear inspired hoodie has so many cute and kawaii details, you will feel instantly smol and adorable!
With fuzzy ears, cozy warm long sleeves, and a draw string neck!
This cozy little sweatshirt will keep you warm and kawaii as heck!  
Embrace your little side and sport this adorable hooded sweater!
Inspired by traditional youthful and young aesthetic!  
Fits small, size up! Plus sizes up to 3XL!
| | | | | |
| --- | --- | --- | --- | --- |
| Size | Bust | Shouder | Sleeve | Length |
| S | 88cm/34.65'' | 38cm/14.96'' | 58cm/22.83'' | 58cm/22.83'' |
| M | 92cm/36.22'' | 39cm/15.35'' | 59cm/23.23'' | 59cm/23.23'' |
| L | 96cm/37.80'' | 40cm/15.75'' | 60cm/23.62'' | 60cm/23.62'' |
| XL | 100cm/39.37'' | 41cm/16.14'' | 61cm/24.02'' | 61cm/24.02'' |
| XXL | 104cm/40.94'' | 42cm/16.54'' | 62cm/24.41'' | 62cm/24.41'' |
| XXXL | 108cm/42.52'' | 43cm/16.93'' | 63cm/24.80'' | 63cm/24.80'' |