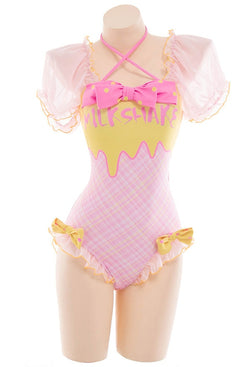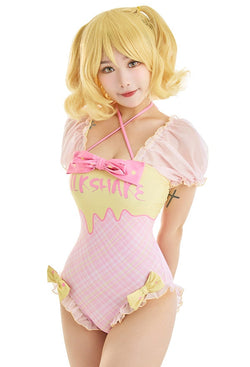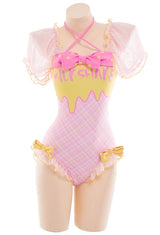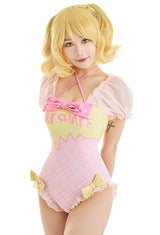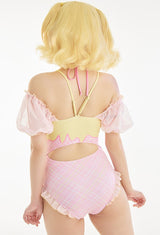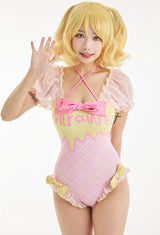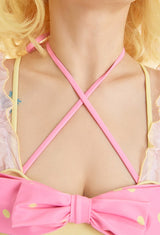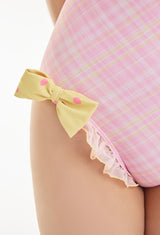 Milkshake Ribbon Ruffle Onesie
Introducing the Pink and Yellow Milkshake Plaid Adult Onesie that doubles as a swimsuit!
Eye-catching and unique kawaii swimmer perfect for pool parties and beach vacations, or for romping around in littlespace.
Made from durable and high-quality swimwear materials that are form flattering
Features a playful pink and yellow plaid pattern
Versatile design allows for use as both a fashion bodysuit and swimsuit
Ruffled puffy sleeves add a touch of whimsy and charm
The word "milkshake" is prominently displayed on the chest
Perfect for making a statement at the beach or pool
Available in a range of sizes to fit many body types with stretchy swimwear fabric.
Mix and match with your favorite beach accessories for a complete summer look
Don't miss out on this one-of-a-kind swimsuit/bodysuit- get yours today!
Milkshake Plaid Swimsuit/Onesie (inch/cm)

Size

S

M

L

XL

Bust

33-34/84-87

35-36/89-92

37-38/94-97

38.5-40/99-102

Waist

26-27.5/66-70

28-29.5/72-75

30.5-32/78-81

33-34/84-87

Hips

34-36/87-92

36-38/92-97

38-40/97-102

40-42/102-107

Height

5'1"-5'3"/155-160

5'3"-5'5"/160-165

5'5"-5'7"/165-170

5'7"-5'9"/170-175

Cup Size

30D/32B/32C/34A

32D/34B/34C/36A

34D/36B/36C/38A

36D/38B/38C/40A