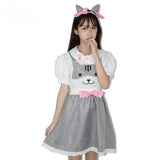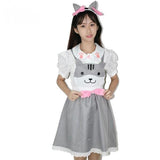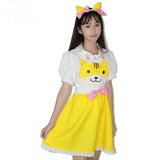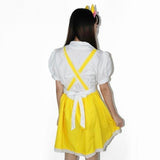 This precious grey, black, or yellow kitty cat face jumper dress will have you purring with delight! A traditional over the shoulder suspender tank top style with built in white collared t-shirt underneath, like cute overalls, with a kawaii twist!
Suspender straps criss crosses across the back to form an X!
Quality print, paw prints along the collar, and cute lace ruffles along the skirt! 
You'll feel like a youthful kitten princess in this gorgeous little jumper dress!
Embrace your little side and sport this instantly cute complete outfit!  
Measurements:
  Bust 87 cm, Waist 75 cm

Will fit adult female size XS-Small best