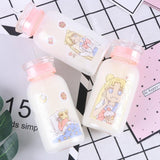 These kawaii magical girl inspired "baby bottles"  are perfect for little ones wanting to show off their smol and cute age regression side while being cute as heck!
Made with a traditional straw, you can carry these "sippy cups" with you anywhere like a grown-up, while still embracing your smol side. ;) 
A great alternative to traditional sippies! Perfect for smol babies! 
Made of genuine glass with stunning designs! 
Available in 7 beautiful styles.
Includes everything you see.
Made of quality 100% SAFE materials to drink from! Environmentally conscious! BPA free plastic straw.
Holds approximately 280ml of any beverage of your choice. Perfect for thirsty adult babies!
Dishwasher safe.  
---
Little Space Ageplay Tip: Pair this cute little adult baby bottle with a matching kawaii baby rattle, to complete your age play look, also available in our shop!  
---
---