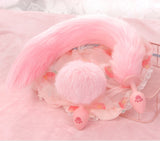 Introducing our "Luxury Paw Tail Plug Set" – the ultimate accessory for your pet play, cosplay, neko, or baby bun adventures! Get ready to unleash your playful side with these surgical grade, high-quality tail plugs that will have tails wagging and hearts melting. Here's what makes our set so special:
Two tails, double the fun: Choose between the adorable pink bunny and cat tails or the charming white bunny and cat tails. It's like having your own personal menagerie!
Pawsitively stylish: Each tail plug features a cute paw print embellishment on the insert, adding an extra touch of charm and personality.
Fluff-tastic vegan faux fur: These tails are soft, fluffy, and completely cruelty-free, ensuring a guilt-free indulgence in your pet play fantasies.
Premium quality: Crafted from surgical grade materials, these tail plugs are built to last, ensuring durability and comfort during your wildest escapades.
Unleash your imagination and embrace your inner pet with our "Luxury Paw Tail Plug Set." Get ready to purr, hop, and play to your heart's content!
---
---