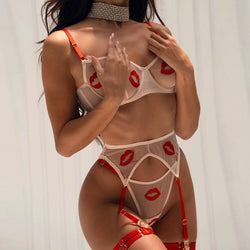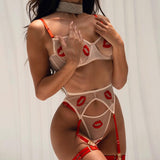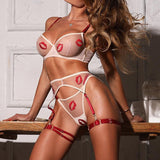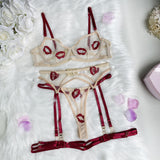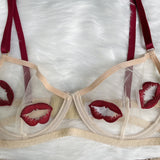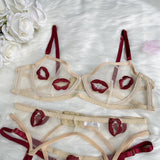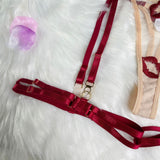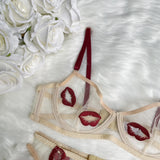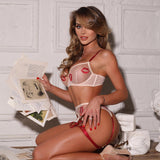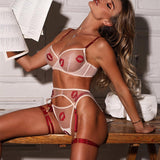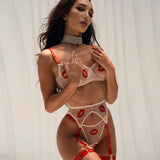 Kiss Me Everywhere Lingerie Set
 Introducing the "Kiss Me Everywhere Lingerie Set" - your ultimate ticket to a seductive adventure! Get ready to set hearts racing with this playful and oh-so-sexy ensemble. Here's what makes it so irresistible:
Lip-smacking design: Made from skin color mesh adorned with ravishing red embroidered lipstick kisses, this set is a feast for the eyes. It's like wearing a canvas of desire!
Three-piece perfection: The set includes a tantalizing bra, a sultry panty, and a matching lipstick kiss garter belt. You'll have everything you need to ignite passion.
Flirty and fun: With its playful design, this lingerie set exudes a mischievous charm. It's a reminder to embrace your sensuality and let your lips do the talking.
Unleash your inner temptress: Slip into this set and instantly transform into a fierce seductress. The combination of the skin color mesh and vivid red kisses creates an alluring contrast that will leave admirers spellbound.
Confidence booster: When you feel sexy, you radiate confidence. The "Kiss Me Everywhere Lingerie Set" empowers you to embrace your curves and unleash your inner goddess.
Get ready to pucker up and embrace your sexiness with the "Kiss Me Everywhere Lingerie Set." It's time to leave a trail of kisses and make hearts skip a beat!
| | | | |
| --- | --- | --- | --- |
| SIZE | BUST/CM | WAIST/CM | PANTY LENGTH/CM |
| S | 66-80cm | 66-80cm | 22cm |
| M | 70-84cm | 70-84cm | 23cm |
| L | 74-88cm | 74-88cm | 24cm |