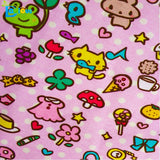 This adorable pink kawaii baby animal and delicious food patterned adult-sized bib is perfect for littles romping around in little space and being kawaii as heck!
With baby bunnies, kitties, froggies, icecream, cupcakes, and more, what's not to love?
Great for messy littles who are prone to spills and dribbles!
Embrace your inner child and be outrageously cute!
Made of high quality soft material on the front and beautiful waterproof material on the back, it's protection, function, and cuteness all in one! 
One size fits most adults of any size! Easy adjustable snap closure. 
---
Pro Little Space Age Play Tip: Pair this cute adult sized baby bib with a sweet matching Adult Onesie, also available in our shop!  
---
---