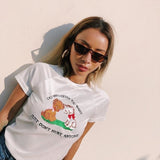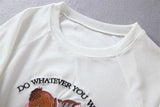 Don't Hurt Anyone Crop Top
This adorable little white crop top features the sweetest little vintage puppy and kitten with the words "Do Whatever You Want Just Don't Hurt Anyone"
Truer words have never been spoken: do whatever you want baby, you're not hurting anyone! 
Kitschy and sweet, perfect for romping around in little space while spreading a positive message! 
Made of comfortable material, and just the right shade of light blue, this angelic crop top will look adorable on any little!
 Available in sizes up to Large, although it does fit small so please measure first and choose a size up when in doubt!
---
Pro Kawaii Fashion Tip: Pair this cute crop top  with a Matching White Pleated Skirt,  also available in our shop! 
---
---