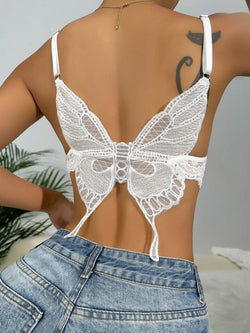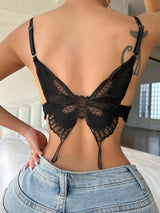 Introducing the Butterfly Back Bralette, the epitome of flirty and fabulous! Get ready to spread your wings and fly high with this delightful lingerie piece. Here's why this bralette will make your heart flutter:
Stunning lace fabric: This bralette is crafted with exquisite lace that adds a touch of elegance and sensuality.
Mesmerizing butterfly wings: The pièce de résistance! The large embroidered butterfly wing design on the backside is simply enchanting, making you feel like a majestic creature.
Winged perfection: Embrace your inner goddess with the winged motif, symbolizing freedom, beauty, and transformation.
Silk ribbon allure: The front center features a delicate silk ribbon, adding a hint of glamour and charm.
Color options: Choose between classic black or pristine white, both versatile shades that will enhance your natural beauty.
Indulge in the allure of the Butterfly Back Bralette and let your confidence take flight. With its whimsical design and delightful details, this lingerie piece is perfect for adding a touch of magic to your wardrobe. So, spread those butterfly wings and embrace your playful side!