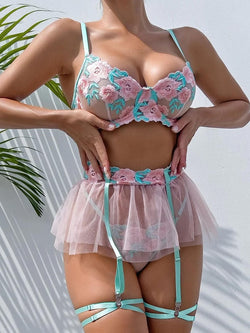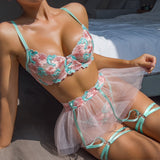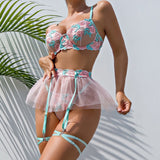 Bubblegum Flower Lingerie Set
 Get ready to embrace your sweet side with the Bubblegum Flower Lingerie Set, a deliciously playful ensemble that will make hearts pop!
Indulge in a burst of sugary-sweet style with this sexy lace pink and pastel blue lingerie set, reminiscent of cotton candy and bubblegum.
This tantalizing set features cute flower embroidery on the underwire bra, adding a touch of floral charm to your fantasy.
But wait, there's more! The beautiful waist belt comes with a stunning mesh tutu attached, creating a whimsical bubblegum dream that will leave you feeling absolutely irresistible.
And let's not forget the gorgeous blue garter belts included, adding an extra sprinkle of sweetness to your ensemble. They're the cherry on top of your bubblegum sundae!
Say goodbye to boring lingerie and hello to a supportive floral lift! The supportive underwire cups will enhance your curves, making you look and feel like a goddess.
Whether you're planning a playful night in or want to surprise your partner with a sugary-sweet treat, the Bubblegum Flower Lingerie Set is the perfect choice. It's time to embrace your inner bubblegum babe and have some deliciously delightful fun!
| Size | Bust | Under-bust | Waistband |
| --- | --- | --- | --- |
| S | 80-90cm | 72-82cm | 62-72cm |
| M | 84-94cm | 76-86cm | 66-76cm |
| XL | 92-102cm | 84-94cm | 74-84cm |
| L | 88-98cm | 80-90cm | 70-80cm |