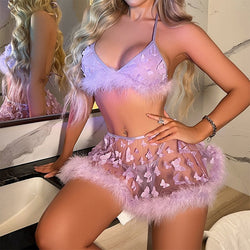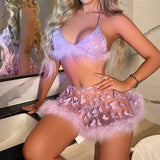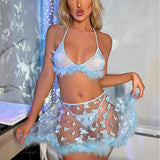 Blooming Butterfly Lingerie Set
Introducing the sassy and seductive Blooming Butterfly Lingerie Set, designed to make hearts flutter and pulses race! Indulge in a whimsical world of butterflies with this playful ensemble. Check out its fabulous features:
Fur-trimmed mesh & lace butterfly embellished bra top: Feel like a captivating creature with the delicate lace, alluring mesh, and adorable butterfly details that will surely take your breath away.
Cute matching 3D fabric butterfly embellished skirt: Flutter around with confidence in this flirty skirt, adorned with beautiful fabric butterflies that seem ready to take flight at any moment.
Cute matching panties for under the sheer lace skirt: Slip into these comfortable and stylish panties, designed to be the perfect complement to the sheer lace skirt. Get ready to reveal your hidden treasures!
Available in two enchanting colors: Choose between the mysterious allure of blue or embrace your inner royalty with a regal purple hue.
Step into the world of Blooming Butterfly Lingerie Set, where butterflies, skirts, and lingerie come together in a delightful dance of sensuality and charm. Don't miss your chance to unleash your inner butterfly and captivate all who behold your beauty! 
| Size | Bust | Under-bust | Waistband |
| --- | --- | --- | --- |
| S | 31.50-35.43 | 28.35-32.28 | 24.41-28.35 |
| M | 33.07-37.01 | 29.92-33.86 | 25.98-29.92 |
| L | 34.65-38.58 | 31.50-35.43 | 27.56-31.50 |