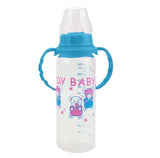 These kawaii baby boo traditional infant baby bottles  are perfect for little boys and girls wanting to show off their smol and cute age regression side while being cute as heck!
A great alternative to traditional sippies! Perfect for smol babies! 
Made of safe BPA free plastic with cute little baby inspired graphics all over the bottle itself
Available in 2 classic colors - blue or pink, EXACT DESIGN WILL VARY! 
Includes the handles,  nipple, and nipple protector cover. 
Made of quality 100% SAFE materials to drink from! Environmentally conscious!
Holds approximately 250ml of any beverage of your choice. Perfect for thirsty adult babies!
Dishwasher safe. 
High quality design!  
---
Pro Little Space Tip: Pair this cute little adult baby bottle with a matching kawaii baby rattle, to complete your age play look, also available in our shop!  
---
---