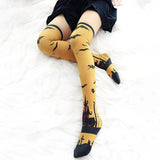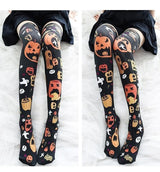 Halloween Lolita Stockings
These spooky cute gothic halloween inspired stockings have a vibrant black and orange print featuring classic halloween aesthetics like crosses, ghosts, pumpkins, witches, haunted houses, and more!
Made of comfortable and stretchy fabric with a kawaii as heck dark gothic pattern that is sure to impress!
Fits snug, so these stockings work best on cuties size XS- XL best!