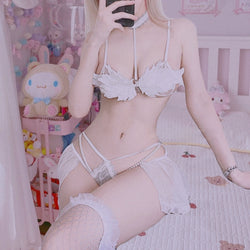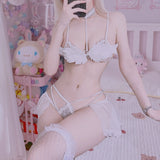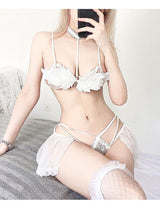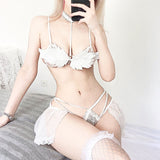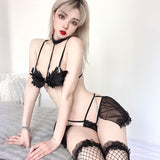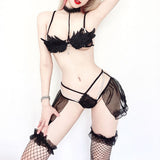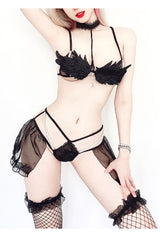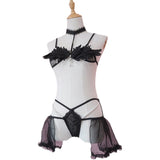 Feathered Angel Lingerie Set
 Introducing the Feathered Angel Lingerie Set - Unleash your inner angelic enchantress with this heavenly ensemble that will make hearts flutter and temperatures soar. Get ready to spread your wings and embrace your inner fairy with this whimsical lingerie set that's perfect for heavenly seduction.
👼 Divine Design: Delicate feather details adorn the bra, giving you an ethereal glow that will leave your admirers in awe.
🌟 Pearls of Passion: The matching skirted panties feature enchanting pearl accents, adding a touch of elegance and sophistication to your angelic allure.
⚡ Heavenly Hues: Choose between classic black or pure white, depending on your mood and desired level of celestial mystique.
💫 Match Made in Heaven: Complete your celestial look with optional fishnet stockings, ensuring an irresistible combination of sensuality and playfulness.
🔥 Sensual Supremacy: This angel-inspired lingerie set offers a heavenly fit, accentuating your curves and providing divine comfort.
👙 Bra and Panties Delight: The perfect combination of beauty and seduction, with a built in collar harness design, this set is designed to make you feel like a heavenly goddess.

🎁 One Size

:Chest: 65-106cm Waist: 66-108cm Fits Weight: 40-60kg
Transform into an irresistible celestial being with our Feathered Angel Lingerie Set. It's time to embrace your angelic side and indulge in pure fantasy.