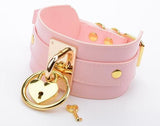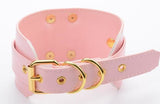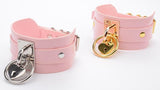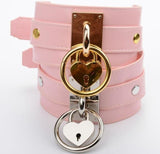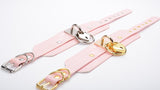 This gorgeous vegan leather oversized heart locket choker necklace has quality silver or gold hardware, belted adjustable buckles, and screams "I'm a naughty princess, but I'm girly and kawaii too"! 
Includes 1 matching key to the lock to give to your owner/dom/special someone! 
With inspirations from dd/lg, s&m, and bdsm culture, this collar is kinky enough to be worn in the bedroom for you fetish lovers, but cute and innocent enough to be worn every single day aesthetically!  We're a fashion shop, after all! 
Embrace your inner submissive, and sport your favorite new flower collar today! 
One adjustable size fits most kawaii princesses and princes! 
---
Little Space Ageplay Tip: Pair this stunning collar with a matching Leg Garter Belt also available in our shop!
---
---